---
Governance Highlights
Stratus is committed to strong and effective governance practices that are responsive to our stockholders. Our commitment to good corporate governance, including best practices that are part of our executive compensation program, is illustrated by the following practices:
Board Independence and Composition (as of December 15, 2022)

Regular review of Board composition, including the addition of 3 diverse independent directors to the Board in the last two years
Board independence: 6 out of 7 directors are independent
100% independent audit, compensation, and nominating and corporate governance committees
Refreshed Board committee composition and leadership
New lead independent director with strong and clear responsibilities
Race/ethnic and gender diversity among our directors and executive officers
Diversity of tenure among directors, with 3 out of 7 directors with tenures of less than 5 years and 2 with tenures between 5 and 10 years
2 out of 7 directors age 55 years or less, 3 between 56 and 65 and 2 age 66 and above, with an average age of our independent directors of approximately 61.2 years

Key Responsibilities, Policies and Guidelines

Robust corporate governance guidelines
Ethics and business conduct policy applies to all directors, officers, employees and affiliated and unaffiliated service providers with annual certification process
New Board diversity policy
New overboarding policy
Nominating and corporate governance committee oversight of environmental, social and governance ("ESG") and sustainability matters
Compensation committee oversight of culture and human capital management, including diversity, equity and inclusion
Stock ownership guidelines for executive officers and non-employee directors
No Board meeting attendance fees for directors

Board Performance and Shareholder Rights

Annual performance evaluations of the Board overseen by the nominating and corporate governance committee
100% attendance at Board meetings by all directors during 2021
Independent directors regularly meet in executive sessions without management present
Redeemed stockholder rights agreement in response to 2021 stockholder vote
One share, one vote standard

Executive Compensation

Annual incentive bonus program awards based on operating and financial performance
Long-term incentive awards tied to success and profitability of our development projects
Application of a clawback policy to performance-based awards
Anti-pledging and anti-hedging policies applicable to our executive officers
"Double trigger" cash payments and equity acceleration after a change of control
Retention of an independent compensation consultant from time to time in the sole discretion of the compensation committee of the Board
No excise tax gross-ups
No retirement benefits that are not available to employees generally
No excessive perquisites
Board Composition and Diversity Highlights
We are committed to Board diversity and Board refreshment, and we believe the Company's policies and practices help to ensure a diversity of skills, experience, and tenure on the Board. In the past two years, we have added three new, diverse independent directors to our seven-member Board: Neville L. Rhone, Jr., Kate B. Henriksen and Laurie L. Dotter. For more information regarding our directors and diversity, see our website under the headings Company - Bios and People - Director and Executive Officer Gender and Race/Ethnic Diversity and Independence.
We also aim to have a Board that is independent and made up of directors with a range of tenures and ages, as illustrated below (as of December 15, 2022):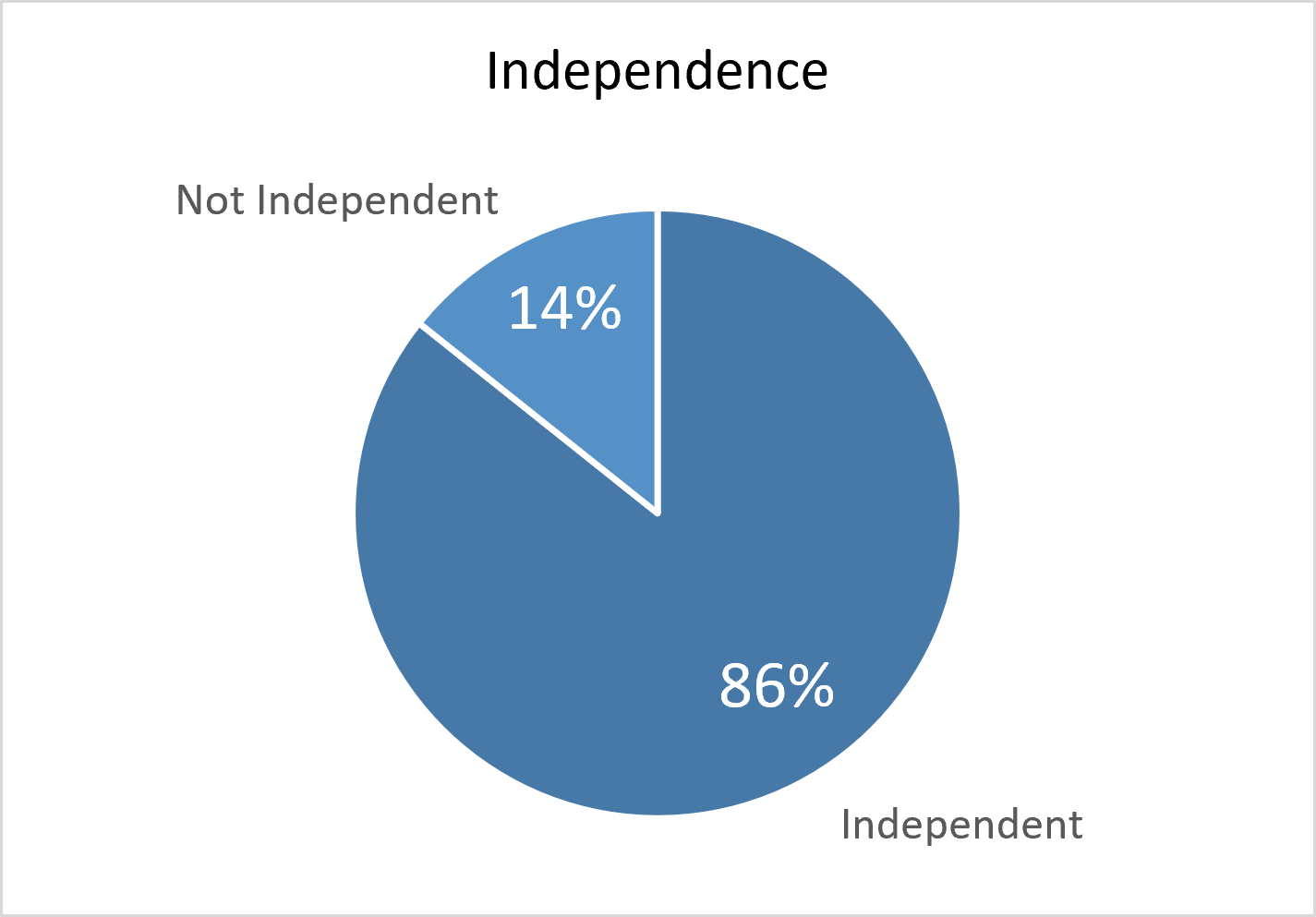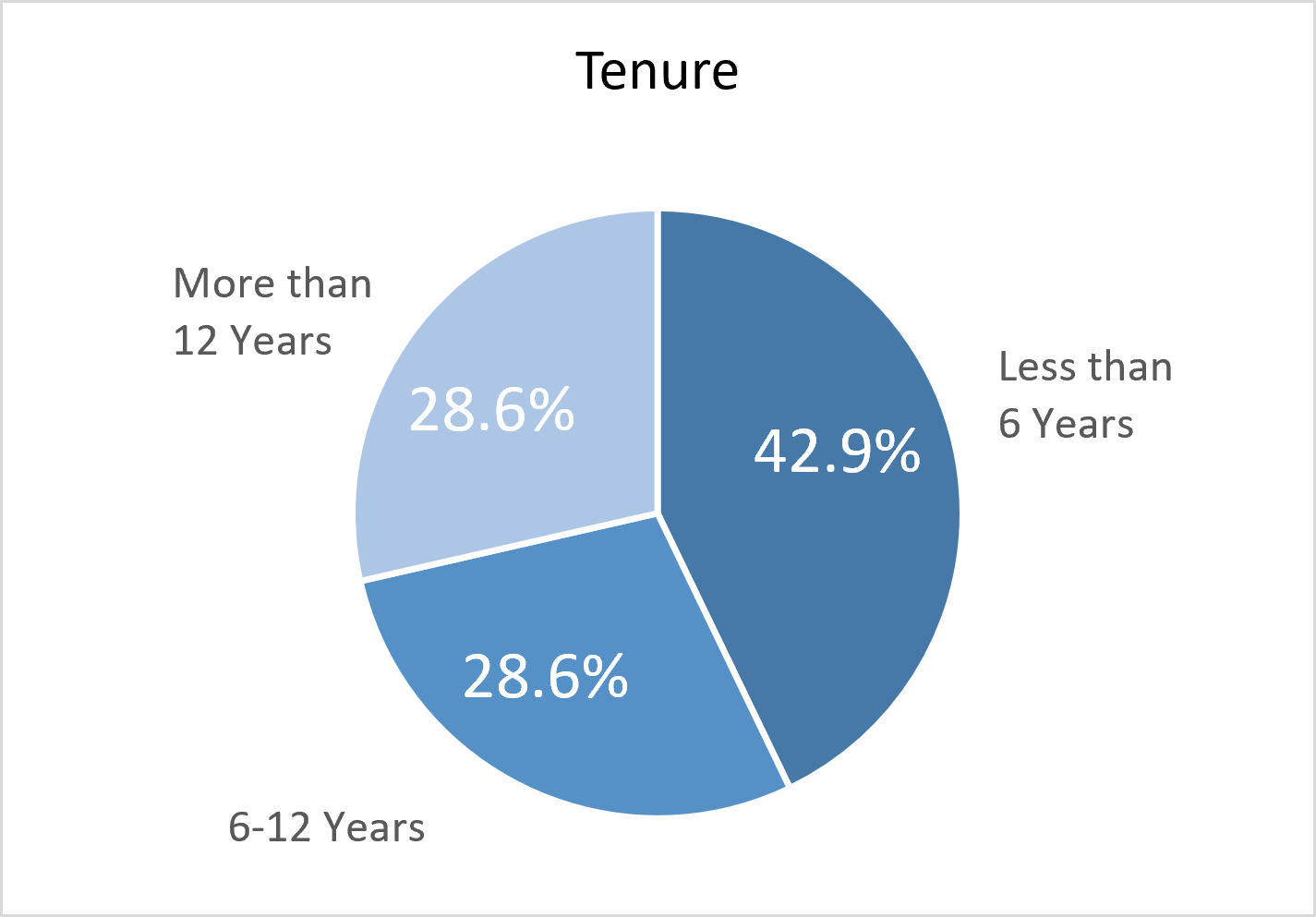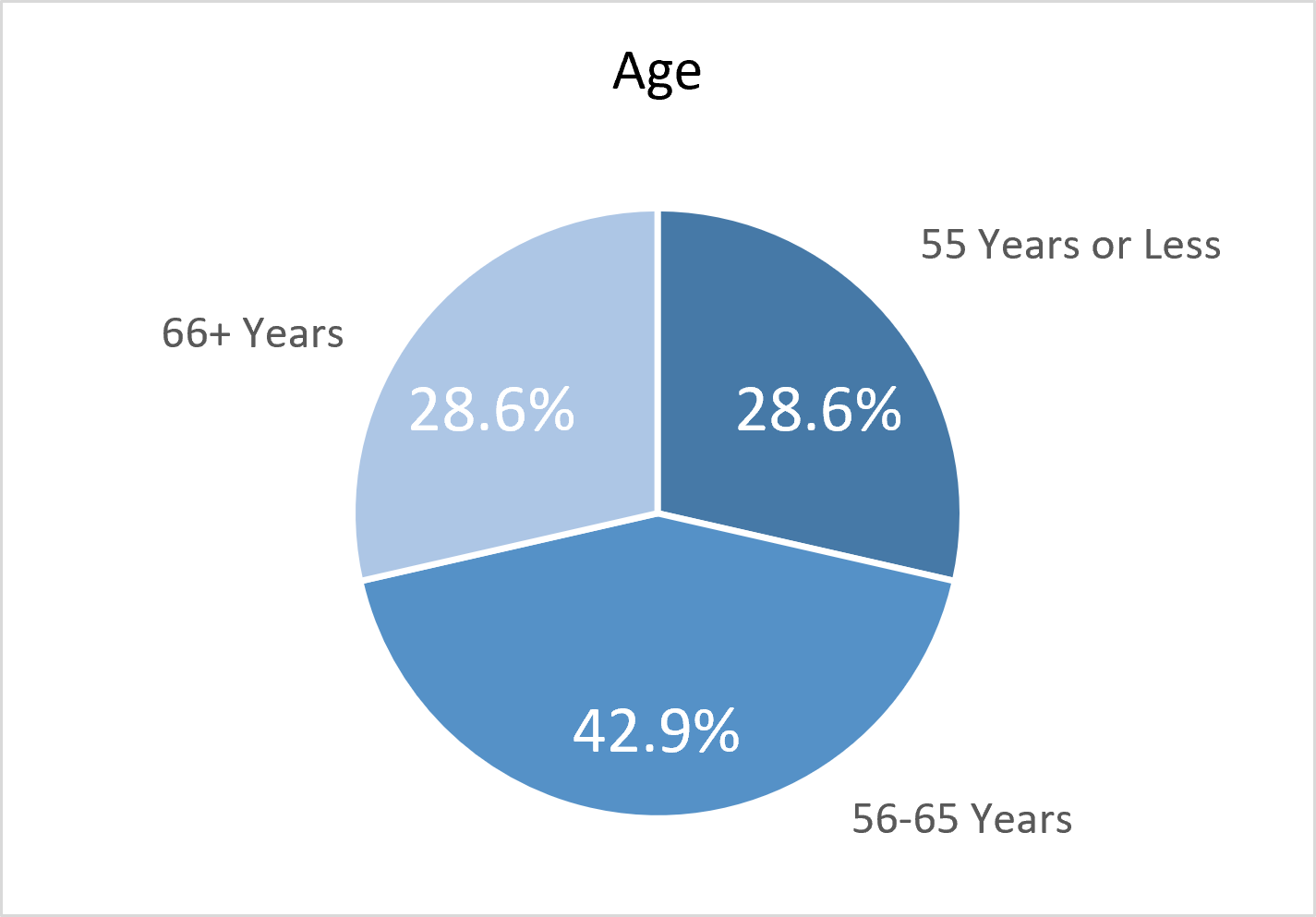 Board Skills, Experience and Background
Our directors have a diverse mix of skills, experiences and backgrounds that qualify them for service on our Board and that contribute to our ability to create value for our stockholders. The table below is intended to highlight each director's particular strengths, and an individual director may have other skills, experiences and personal attributes not highlighted in the table.
Skills and Experience
Dotter
Henriksen
Joseph
Madden
Porter
Rhone
Armstrong
Total
CEO / Executive Management Experience
✓
✓
✓
✓
✓
✓
6 out of 7
Real Estate Industry Experience
✓
✓
✓
✓
✓
5 out of 7
Other Public Company Board Experience
✓
✓
✓
3 out of 7
Risk Management / Strategic Planning Experience
✓
✓
✓
✓
✓
✓
✓
7 out of 7
Public and Private Investment Experience
✓
✓
✓
✓
4 out of 7
Banking / Finance Experience
✓
✓
✓
✓
✓
✓
6 out of 7
Accounting and Financial Reporting Experience
✓
✓
✓
✓
✓
✓
6 out of 7
Background as of December 15, 2022
Average
Tenure (Years)
1
1
7
30
10
1
24
10.6
Age (Years)
62
48
61
73
71
52
58
60.7
Independence and Leadership Structure
Our Board has primary responsibility for overseeing the management of our business and affairs. Our Board consists of seven members, six of whom have been determined by our Board to be independent. Our three standing Board committees (audit, compensation, and nominating and corporate governance) are composed entirely of independent directors, and have the power and authority to engage legal, financial and other advisors as they may deem necessary, without consulting or obtaining the approval of the full Board or management. William H. Armstrong III, the chairman of our Board, is not considered an independent director because he is also our president and chief executive officer and receives compensation for his services to the Company as a member of our management team. Charles W. Porter is nominated to our Board pursuant to an Investor Rights Agreement with our stockholder LCHM Holdings, LLC. Our Board believes that the independent directors provide effective oversight of management.
Our Board believes that Mr. Armstrong's service as both chairman of our Board and as president and chief executive officer is in the best interest of the Company and our stockholders at this time. Our Board recognizes the importance of having a strong independent board leadership structure to ensure accountability and to facilitate the effective performance of the Board in its role of providing effective oversight of management. In 2013, our Board established the position of lead independent director. The role of our lead independent director is described in our corporate governance guidelines. Michael D. Madden served as our lead independent director from 2013 until April 1, 2022. Effective April 1, 2022, James E. Joseph was appointed to serve a three-year term as lead independent director.
Board and Board Committee Refreshment; Annual Board Evaluation Process
Three new diverse independent directors have joined our seven-member Board in the last two years: Neville L. Rhone, Jr., Kate B. Henriksen and Laurie L. Dotter. In addition, during 2021 we refreshed the composition of our three standing committees and rotated all chair positions. Neville L. Rhone, Jr., a member of the audit committee, became chair; James E. Joseph, a member of the compensation committee, became chair; and Kate B. Henriksen, a member of the nominating and corporate governance committee, became chair. We also decreased the size of the committees to promote efficiencies and better align with peer company practices. We believe our commitment to a strong Board and corporate governance is facilitated by our annual performance evaluation of our Board and Board committees, which is overseen by our nominating and corporate governance committee. For more information on our Board committees, see our website under the heading Investors - Corporate Governance.
Board's Role in Oversight of Risk Management
Our Board of Directors as a whole is responsible for risk oversight, with reviews of certain areas being conducted by the relevant Board committees that report to the full Board. The chart below provides an overview of the areas overseen by each committee.
Board of Directors




Responsible for risk oversight at the Company

Board Committees




Assist the Board in fulfilling its oversight responsibilities with respect to certain areas of risk




Each committee regularly reports on these matters to the full Board




Audit Committee




Reviews and discusses with management, the internal audit firm and our independent registered public accounting firm any guidelines and policies relating to risk assessment and risk management, and the steps management has taken to monitor, control and minimize the Company's major financial risk exposures, if any
Discusses with the internal audit firm and our independent registered public accounting firm the results of their processes to assess risk in the context of their respective audit engagements
Meets periodically in executive session with the internal audit firm and our independent registered public accounting firm
Monitors the effectiveness of the Company's internal control over financial reporting and legal and regulatory compliance, as well as information and technological security and cybersecurity risks

Compensation Committee




Oversees, in consultation with management, the Company's compliance with regulations governing executive and director compensation
Oversees the Company's assessment of whether its compensation policies and practices are likely to expose the Company to material risks

Nominating and Corporate Governance Committee




Oversees management of risks associated with our Board leadership structure, corporate governance matters, and ESG and sustainability strategy, initiatives and practices
In its risk oversight role, our Board reviews, evaluates and discusses with appropriate members of management whether the risk management processes designed and implemented by management are adequate in identifying, assessing, managing and mitigating material risks facing the Company, including financial and operational risks. Our Board believes that full and open communication between senior management and our Board is essential to effective risk oversight. Our lead independent director regularly meets with our chairman, president and chief executive officer to discuss a variety of matters, including business strategies, opportunities, key challenges and risks facing the Company, as well as management's risk mitigation strategies. Senior management attends all regularly scheduled Board meetings where they make presentations to our Board on various strategic matters involving our operations and are available to address any questions or concerns raised by our Board on risk management or any other matters. Our Board oversees the strategic direction of the Company, and in doing so considers the potential rewards and risks of the Company's business opportunities and challenges and monitors the development and management of risks that impact our strategic goals.
Corporate Governance Guidelines; Ethics and Business Conduct Policy; Proxy Statement
Our corporate governance guidelines, along with our Certificate of Incorporation, as amended (our "Charter"), our amended and restated by-laws (our "By-Laws") and the charters of the standing committees of our Board, provide the framework for the governance of the Company and reflect the Board's commitment to monitor the effectiveness of policy and decision making at both the Board and management levels. Our Charter, By-Laws, committee charters and corporate governance guidelines are available on our website under Investors-Corporate Governance. In addition, our ethics and business conduct policy is available on our website under Investors-Ethics and Business Conduct. Amendments to or waivers of our ethics and business conduct policy granted to any of our directors or executive officers will be published promptly on our website.
Additional information regarding our corporate governance practices can be found in our proxy statement for our most recent annual meeting of stockholders, filed with the U.S. Securities and Exchange Commission and available on our website under Investors - SEC Filings.